| Home | Amazon.com Books | Electronic Newsstand | LandscapeUSA | Roses | Garden Shows | Catalogues |
| Pergolas | Container Gardens | Soil | Shade | Tomatoes | Coffee Klatch | Zones | Pansies | Guest-book |
Easter Sunday Photos
At my house: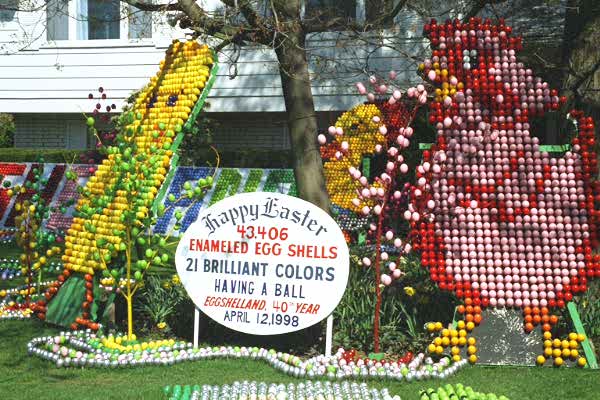 EGGSHELLAND
Having a Ball
43,406 Eggshell Display
April 4 thru April 13, 1998
Eggshelland is a unique Easter Display, which has been presented for 40 years by Ron and Betty Manolio of Lyndhurst, Ohio. Their entire front lawn is transformed into different eggshell mosaic designs each year, always including a 50 foot Cross and the Easter Bunny.
The display grew from 750 shells inn 1957, to a collection of 60,000 shells in 21 brilliant colors today. As far as we know, it is the only display of its kind in the world. The idea came from Manolio's Mother, who placed dyed eggshells on bushes in front of her home.
This is a family project. Over the years Manolio's family and friends have saved about 30,000 shells. He now obtains shells from two local restaurants, Famiglia's and Dino's, cracking eggs that they use in cooking. The shells are used over again each year, repainted, if necessary, in the proper colors.
Manolio makes a hole the size of a dime in the egg and drops the contents. The eggshells are then washed and the edges of the holes trimmed. After painting, the shells are stored by color in boxes, with 250 shells in each box.
The theme last year was "Having a Ball." The total number of shells used in that display was 43,406. The display included; "Cinderella and Friends (Bruno and Gus), "Going to the Ball (The Fairy Godmother and Ciderella)," "The Shoe Fits (Cinderella, Drizella, the Stepmother, Anastasia, The Grand Duke and Lucifer)," and The Indians Champs.
The display was lit up at night with 40 floodlights. If the weather permitted the display would remain up from March 28 thru April 13.
Happy Easter, Ron and Betty Manolio.
(taken from the flyer handed out at Eggshelland)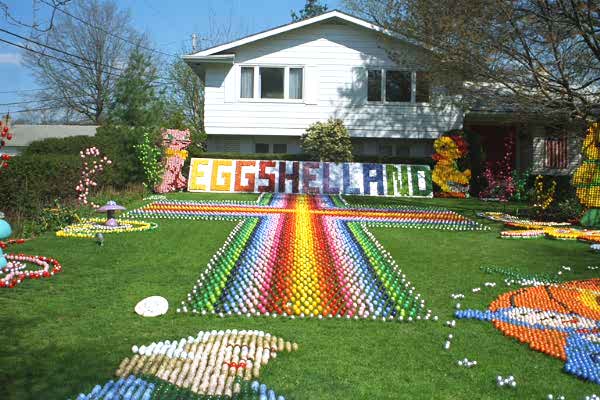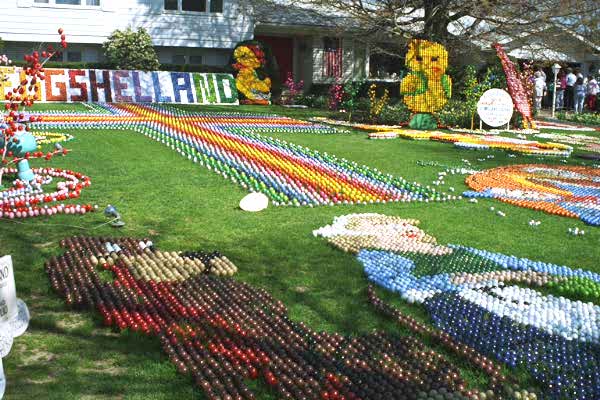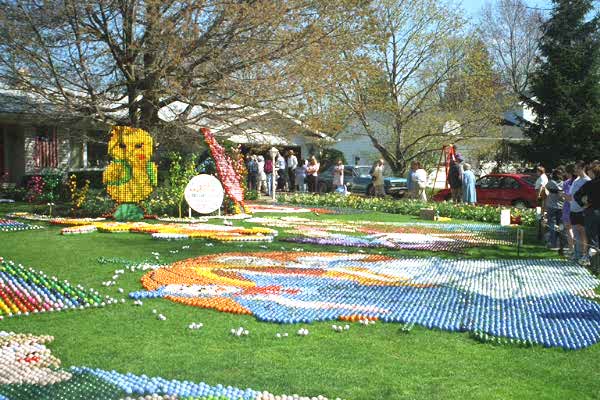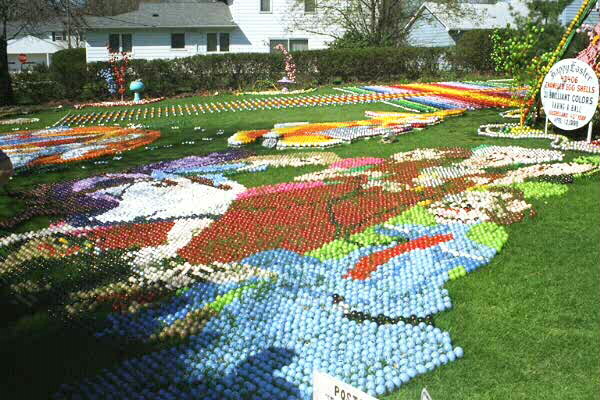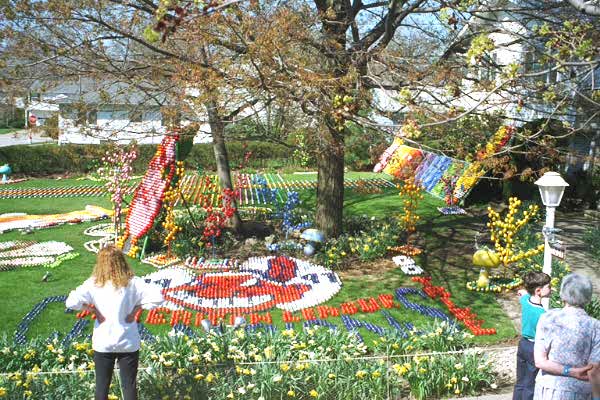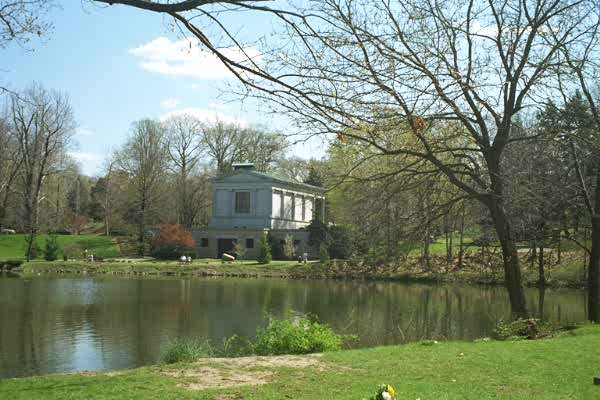 Rear of Wade Chapel with Tiffany Window
Garfield Monument
Hill of 100,000 Daffodils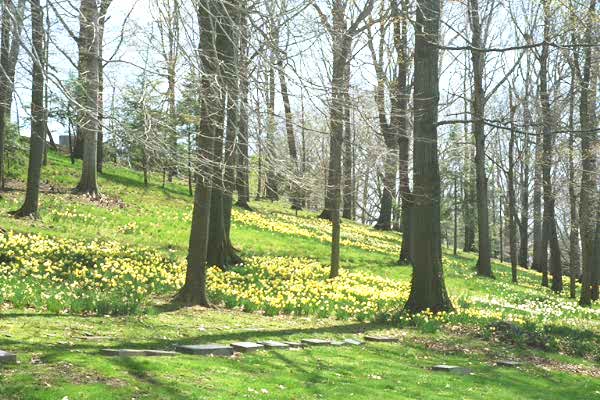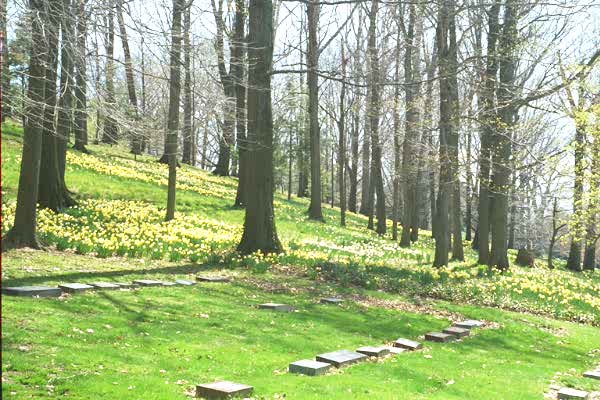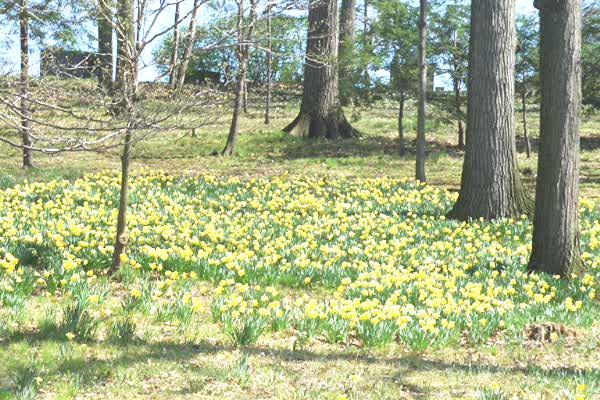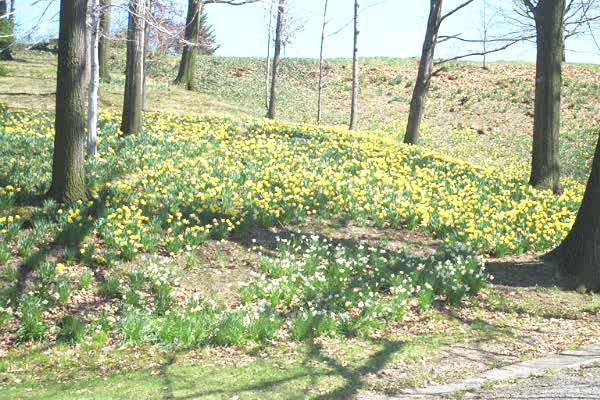 Front Yard with Dogwood in Bloom at Easter
Louis Tiffany's artistry once graced the mansions of Millionaires' Row in Cleveland, Ohio, now the Wade Memorial Chapel is Cleveland's only complete surviving example of the master's work.


This exquisite chapel was completed in 1900 as a lasting tribute to Jeptha H. Wade by his grandson, Jeptha H. Wade II. Jeptha Wade rose from modest origins in Seneca County, New York. His farsighted development of telegraph lines led to the formation of Western Union and a substantial fortune. By the time of his death, Wade was the wealthiest man in Cleveland.
The Chapel is a hidden treasure, upon entering, one is immediately struck by the luminous Louis Comfort Tiffany window depicting the Resurrection. Wade Chapel is the only interior Tiffany executed in Cleveland that is still completely intact.


---
DAFFODIL SUNDAY
Sunday, April 12, 1998
Follow the red arrow signs for a drive-it-yourself tour of lovely, spring blooming. Lake View, featuring over 100,000 daffodil bulbs on Daffodil Hill in Sections 40 and 41.


A horticultural landmark, Lake View Cemetery was planned in 1869 as a garden cemetery. Over 285 acres of natural beauty are filled with many mature native and exotic plant varieties. To assist you in identification, 500 trees and shrubs are labeled on the grounds of Lake View with their common and scientific names. The horticulturist can help you with locating specific varieties or answer any questions.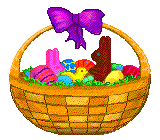 | Home | Amazon.com Books | Electronic Newsstand | LandscapeUSA | Roses | Garden Shows | Catalogues |
| Pergolas | Container Gardens | Soil | Shade | Tomatoes | Coffee Klatch | Zones | Pansies | Guest-book |