(Please wait for images to load - these beautiful photos are well worth the wait.)
Easter Sundays at Eggshelland

click to see large image


Eggshelland 2000
click to see large image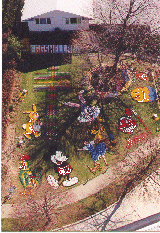 Eggshelland 1999
click to see large image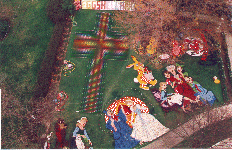 Eggshelland 1998
click to see large image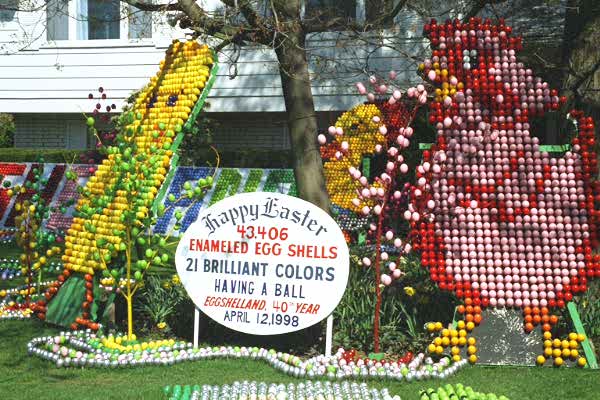 EGGSHELLAND 1998
Having a Ball
43,406 Eggshell Display
April 4 thru April 13, 1998
Eggshelland is a unique Easter Display, which has been presented for 40 years by Ron and Betty Manolio of Lyndhurst, Ohio. Their entire front lawn is transformed into different eggshell mosaic designs each year, always including a 50 foot Cross and the Easter Bunny.
The display grew from 750 shells inn 1957, to a collection of 60,000 shells in 21 brilliant colors today. As far as we know, it is the only display of its kind in the world. The idea came from Manolio's Mother, who placed dyed eggshells on bushes in front of her home.
This is a family project. Over the years Manolio's family and friends have saved about 30,000 shells. He now obtains shells from two local restaurants, Famiglia's and Dino's, cracking eggs that they use in cooking. The shells are used over again each year, repainted, if necessary, in the proper colors.
Manolio makes a hole the size of a dime in the egg and drops the contents. The eggshells are then washed and the edges of the holes trimmed. After painting, the shells are stored by color in boxes, with 250 shells in each box.
The theme last year was "Having a Ball." The total number of shells used in that display was 43,406. The display included; "Cinderella and Friends (Bruno and Gus), "Going to the Ball (The Fairy Godmother and Ciderella)," "The Shoe Fits (Cinderella, Drizella, the Stepmother, Anastasia, The Grand Duke and Lucifer)," and The Indians Champs.
The display was lit up at night with 40 floodlights. If the weather permitted the display would remain up from March 28 thru April 13.
Happy Easter, Ron and Betty Manolio.
(taken from the flyer handed out at Eggshelland)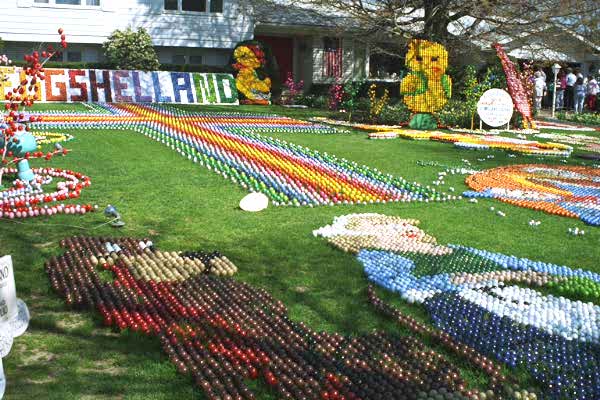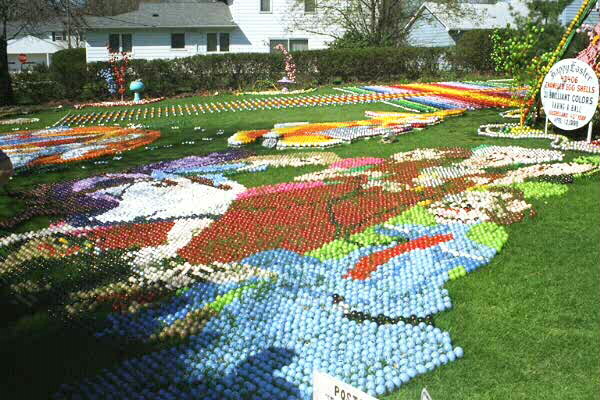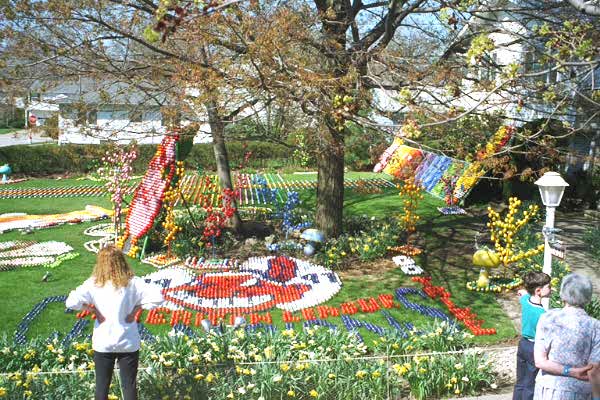 ---
website designed by ElleWeb ................................
All comments Welcome--email: ElleWeb@writeme.com
Visit Gardens, a virual garden center, designed by ElleWeb.
---
Thanks to Ron and Betty Manolio of Lyndhurst, Ohio,
For giving friends, family and neighbors years of enjoyment at Easter.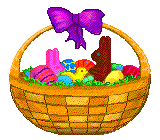 Eggshelland 1997

click to see large image




Eggshelland 1996

click to see large image




Eggshelland 1995

click to see large image




Eggshelland 1994

click to see large image